White River Summer 2023 Rates and Dates
July 3-9    $3250 per person
July 12-18  $3250 per person
July 21-27  $3250 per person
July 30-August 5  $3250 per person
August 9-15  $3250 per person
August 19-23 $2985  per person
August 27– August 31  $2985  per person
---
Mills Wilderness Adventures of Montana, Inc. Refund Policy
10% down for one year advance booking. Must be up to 50% by January 15 of the year your trip is scheduled deposits are non-refundable. Final 50% due upon arrival. Personal checks accepted for deposits. Final payments can be made 14 days before your trip start date online or cash upon arrival. Failure to make timely payments will result in forfeiture of monies paid and the reservation will be cancelled without notice to said client. We will not refund any monies or re-book you on a future trip if requested for the following reasons:
Cancellation by the client for any reason.
Changes in camp location due to weather, water, drought, fire or any consequences of natural process.
Changes in trip dates made by policy or order of the U.S. Forest Service, Governor, and other ranking authority.
Price increases for airfare, insurance, equipment, etc.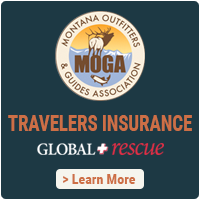 Our rider's weight limit is 250lbs. in order not to overwork our beloved horses. To protect your investment, we suggest that you buy an Adventure Travel Insurance Policy.  To view policy travel insurance coverage, click on the MOGA link to the left.  These policies are available to cover initial, secondary, and final payments, airfare, medical etc. In case something unexpected occurs to you, pandemic outbreaks, and civil insurrection or terror threats. Insurance is highly recommended for trips.